Built in 1890, this lovingly restored house offers a glimpse of life in another era. Available for vacation rental year-round, it comfortably sleeps 7. Located in Schellsburg, it is just off Route 30, Lincoln Highway, Bedford County, south-central Pennsylvania. It is a short walk to 3983-acre Shawnee State Park which offers fishing and boating on the 451-acre lake. Personal computer with high-speed internet access available for vacationers use.
In the living room, exposed vertical timbers show the early construction of this "plank" home. Several original interior doors have thumb-latches. Many of the furnishings are antiques in keeping with the age of the house. However, all plumbing (kitchen and 2 baths) is brand new as this house did not have running water until 2003. A large wrap-around porch overlooks the big yard, working well with hand pump and non-working outhouse.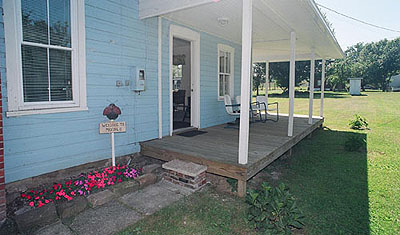 Entry porch wraps around the back of the house.
The master bedroom holds matching chestnut wood double bed, dresser and washstand of the aesthetic period (1880-1890). A turn-of-the-century twig table serves as the nightstand.

Bedroom two is furnished with a Craftsman/Mission-style bed and vanity from the early 1900s.

The third bedroom has a single iron bed which is original to the house.



The main level includes a living room with hide-a-bed, large family kitchen with all new appliances including microwave and dishwasher, a study, and a bathroom with large shower and washer and dryer.